Why it's less expensive, over the long haul, to properly maintain your deck
It may be surprising to you, but many, if not most, homeowners do not adequately maintain their decks. Although most start out with good intentions to stain their deck every 2-3 years, many often do not keep up with the maintenance. In addition, about 1 in 10 of the homeowners we at Deck Medic talk to have never stained their deck, even though in some cases the deck is over 10 years old!
The following comparison outlines the difference between pursuing one of two paths with your new deck. Just like any item that is susceptible to wear and tear and environmental effects, a wood deck is particularly at risk. Besides the obvious aesthetic difference between a beautifully maintained deck and one that's been neglected, the financial costs are even more stunning.
Family 1: They own a new 20 x 12 pressure-treated pine deck at just above ground level, with two sides of railing and five steps and 3 underdeck posts. Pretty standard, really… (Say it like Dr. Evil). See attached photo below.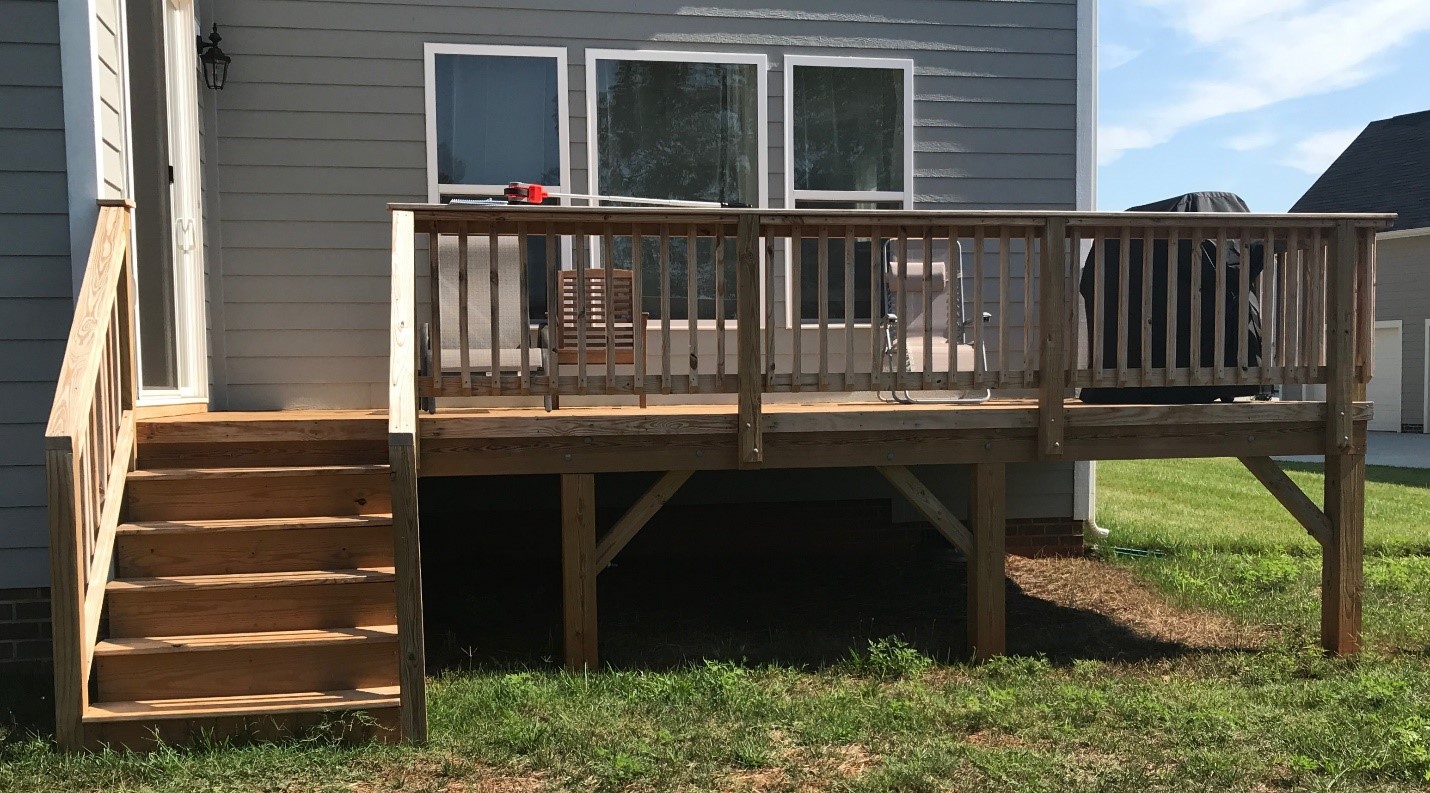 Being a well-informed deck owner, Family 1 hired Deck Medic of Lake Norman and chose to go with a professional grade, semi-transparent oil-based stain. The initial wood treatment is very important to set the deck up for success and to make it look great. Since Family 1 has shown excellent judgement so far, they continue their good streak and get their deck cleaned and stained on average every 30 months until the year 2030, following a "textbook" maintenance plan. Thirty months after their initial treatment, their 2nd treatment includes a thorough washing & mold remediation, followed by re-application of the same type and color of oil stain on the horizontal surfaces only (deck floor, steps and tops of handrails). The 3rd treatment is the same as the 2nd. The 4th treatment is a stripping of the oil stain (easy and inexpensive to do as it is oil), and re-application of an oil-based stain over the entire deck. This time they go with a completely different color, just because they want to.
Family 2: They have the same exact deck as Family 1, but they chose to take a different path. They choose to stain their deck with an acrylic, water-based stain they bought from the local Big Box store. Unfortunately, they didn't prepare the wood adequately, and that stain began to peel after 18 months. Family 2 then hires a painter to treat their deck. As the original decision was made to use an acrylic stain, it is now cost prohibitive to strip and sand the deck in order to change to an oil stain. The painter puts another coat of acrylic stain on the deck. This time the finish lasts two years before failing. Frustrated, Family 2 ignores the deck and just wishes the problem would go away. A very quick, seven, weather-worn years later, this deck is in dire need of major repair. It is assessed, because of safety and other aesthetic reasons that all the deck boards, step boards and handrails need to be replaced and then stained (this time with an oil stain). This is referred to as a "ReDeck" and Stain.
The following table compares the cost differences between the two examples above. Keep in mind each family has had different experiences during these 10 years too. Family 1 continually enjoyed a beautiful deck to have dinner on, play on, and entertain on. In addition, Example 1 family could have sold their house at any time during the 10 years without any loss of home value. Family 2 had a much more frustrating and disappointing experience, and had they needed to sell their house, would have been scrambling to "restore" their deck just to make it presentable to potential buyers.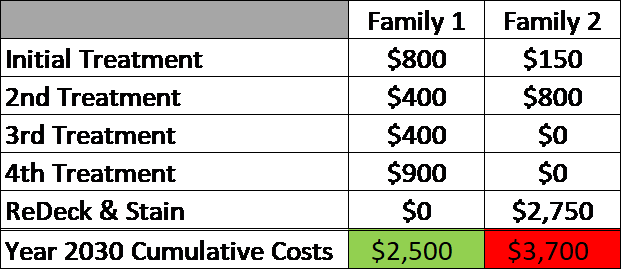 The above cost examples are nominal and shall not be used to infer the costs for treatment of your deck. Consult with a Deck Medic professional to acquire the estimated costs for your deck.
As you can see, Family 1 paid $2,500 over the course of 10 years to beautifully maintain their deck (on average, just $250/year). Family 2 didn't pay much initially but had to pay a big bill at year 10 of $2750 to get their deck safe and in good condition. Their total after 10 years was $3700 (or on average, $370/year). So, the answer is obvious. Be like Family 1, and pay less over the long run, and enjoy a beautifully maintained deck for a very long time.
The Lesson: Those who invest early and consistently are rewarded with a beautiful, useful and relatively inexpensive deck ownership experience.